The Querque Hotel - Albuquerque
35.10831

,

-106.62626
Albuquerque

,

United States

|
71US$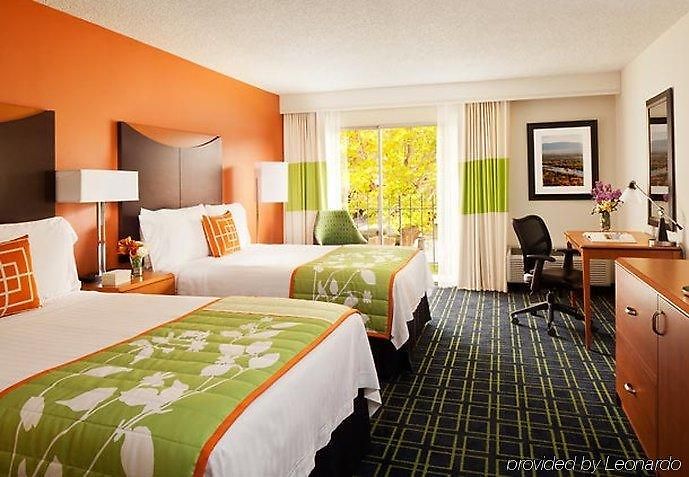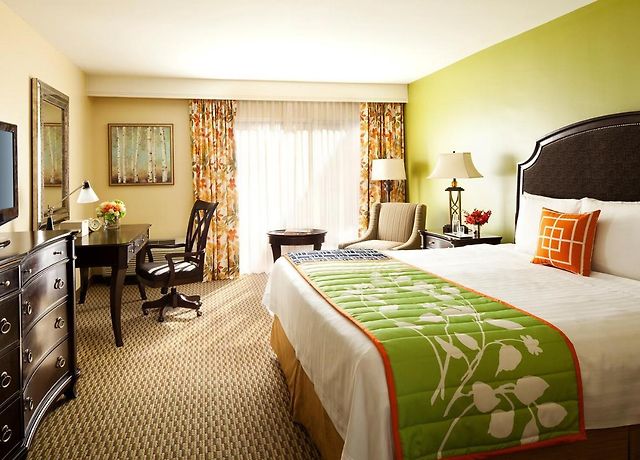 Address
1760 Menaul Boulevard Ne
,
Albuquerque
,
New Mexico
,
United States
,
87102
, New Mexico
Overview
3-star The Querque Hotel Albuquerque features a free parking lot, a sauna and an indoor swimming pool, and lies 2.5 miles from New Mexico Museum of Natural History and Science. Set within a few minutes' drive from American International Rattlesnake Museum, it is this hotel to stay in Downtown Albuquerque district of the city.
Location
The this Albuquerque inn is about 10 minutes by car from Quirky museums. The city center is close by, about 20 minutes' walk away.
This accommodation is within a 10-minute walk from El Paso-Los Angeles Limousine Express bus station.
Rooms
All of the air-conditioned rooms are appointed with WiFi along with a coffee machine, and some of them comprise an adjoining terrace and a balcony.
Eat & Drink
A buffet breakfast is served every morning at the breakfast buffet on site. The onsite restaurants here, including Stonestreet and La Cantina, serve seafood and American dishes.
All visitors are offered a continental breakfast for a fee. 
Internet
Wireless internet is available in the entire hotel for free.
Guest Parking
No parking available.
Year renovated:   2011.  Number of rooms:   185.
Former name: fairfield inn by marriott albuquerque university area
Facilities
Most popular facilities
Food/ Drinks
Bar/ Lounge area
Restaurant buffet
General
Wi-Fi
24-hour services
Food/ Drinks
Fitness/ Gym
Swimming pool
Spa and relaxation
Sports & Fitness
Fitness center
Tennis court
Services
Room service
Laundry
Dry cleaning
Limousine service
Wake up service
Stores/Commercial services
Dining
Continental breakfast
Restaurant buffet
Bar/ Lounge area
Business
Business center
Meeting/ Banquet facilities
Printers
Fax/Photocopying
Spa & Leisure
Indoor swimming pool
Sauna
Room view
Garden view
City view
Pool view
River view
Room features
Air conditioning
Heating
Sitting area
Garden furniture
Ironing facilities
Media
Flat-screen TV
Direct dial telephone
Good to know
Check-in
from 15:00-23:30
FREE
Check-out
from 02:00-12:00
FREE
Children & extra beds
There are no extra beds provided in a room. 
Pets
Pets are allowed on request.
Rooms and availability
King Room Disability Access

Bed options:

Max:

2 persons

Bed options:

Max:

4 persons
City view

Private bathroom

Coffee machine
King Room - Non-refundable

Bed options:

Max:

3 persons
City view

Private bathroom

Coffee machine
Location
1760 Menaul Boulevard Ne
,
Albuquerque
,
New Mexico
,
United States
,
87102
, New Mexico
City landmarks
Nearby
Restaurants
Museum
Indian Pueblo Cultural Center
1.9 mi
Mall
Albuquerque Old Town
2.5 mi
Museum
Maxwell Museum of Anthropology
1.3 mi
Museum
New Mexico Museum of Natural History and Science
2.5 mi
Spa Centre
Albuquerque Baths
5100 ft
Church
St. Paul's Lutheran Church
3300 ft
Golf Course
UNM North Golf Course
3600 ft
Event hall
Albuquerque Convention Center
1.8 mi
Church
San Ignacio Catholic Church
5100 ft
2420 Comanche Rd NE
Albuquerque Dragway
4700 ft
Mall
Walmart Supercenter
4900 ft
Institute-Assistive and Training
4900 ft
New Mexico Symphony Orchestra
1.0 mi
Carrie Tingley Hospital
1.1 mi
Church
Albuquerque Mennonite Church
1.1 mi
Saint Therese of the Infant Jesus Catholic Church
1.1 mi
Saint Therese Church
1.1 mi
Church
Saint Therese Catholic Church
1.1 mi
Gallery
Jonson Gallery and House
1.3 mi
University of New Mexico Campus Observatory
1.2 mi
Transport for Christ
2000 ft
Getting around
Airports
Albuquerque International Sunport

(ABQ)
6.7 mi
Santa Fe Municipal

(SAF)
53.9 mi
You can book a shuttle, once your reservation is complete.
Reviews
Ron

Staff was helpful, room was relatively quiet and we loved unbeatable location. Front desk staff made us feel welcome. Very clean good size rooms. Breakfast was warm and there was plenty of food to choose from.

Can't fault the property in any way!

Lois

Our favorite hotel in Albuquerque, staff was friendly. The views were beautiful. They offered buffet breakfast, it was nice😀👍

Scott

a bathroom with a tub. the service was amazing too. we stayed for 4 nights here, loved downtown albuquerque district.

Frank

Excellant location, the room was good sized and beds were comfy. Services included free Wi-Fi.

William

Staff, great breakfast, value for money.

Few hooks in the bathroom.

missing

Only there for a few hours to visit a friend wish I had more time before heading out. Close to food and shopping and museums.

missing

We spent 8 nights on the road, each time in a different hotel. This was, by far, the best. Spacious! Plenty of seating and lighting, big towels, clean and comfortable. Will do this chain again.

2 bus loads in hotel and we ran out of food at breakfast.....and we were on a timetable so could not wait for food to be refilled. Hotel knew they were going to have lots of folks ther, so we were disappointed that food asn't quicker coming out or more abundant in the first place.

missing

Room clean

could have had more variety; not enough food to feed guests. Bathroom around toilet not too clean. Requested handicap room, told none available. Location of room - had to climb steps - told staff handicapped; no handicap ramp to enter building on side of building.

missing

This hotel has a nice large indoor pool and I liked the waffle maker at breakfast.

It's an older hotel and the beds and pillows were not very comfortable. We had a double room and the beds were full, not queens.

missing

bed was comfortable and clean

no luggage trollies, rude manager, breakfast was terrible

missing

Loved that we were able to be moved to a room as requested overlooking the courtyard. The courtyard made for a pretty facility with plenty of outdoor seating.The staff was friendly. Great location for family. It is a quaint hotel and we would stay again. Great breakfast and staff that kept food stocked and tables clean on a busy holiday weekend.

Our room was not checked by housekeeping on our 2nd of 3 nights. We had to ask. Security was also a bit rude at closing time for the pool. The overall appearance of the hotel was clean. I noticed during my stay that the carpets in the main areas could stand to be vacuumed daily. Didn't hear or see this during the 3 nights/4 days we stayed.

missing

enjoyed the inside pool for a morning swim

By the time we got down for breakfast was a little cold. people were parking none hande cap area.

missing

Awesome bed and enough pillows.

Attitude of staff at checkin.

missing

Policy of charging $29.15 on my credit card After the room has been paid in full. This charge is Just in case you charge something while staying there. We asked it to be removed and they refused Seems like unauthorised charges (fraudulent) and @ 48 hours it has not yet been removed

missing

Everyone was friendly

I dident like that there was no microwave in my room especially with kids it's very inconvienent to have to go downstairs just to use a microwave
FAQ
What is the nearest airport to The Querque Hotel?
The Querque Hotel lies within 0.5 miles of Albuquerque International Sunport airport.
Does The Querque Hotel Albuquerque serve breakfast?
Yes, you can have an buffet breakfast at The Querque Hotel Albuquerque.
At what time can I check-in at The Querque Hotel?
At The Querque Hotel you can check in from 3 PM till 11.59 PM.
How far is The Querque Hotel Albuquerque located from the city center?
The city center is located 20 minutes' walk away from The Querque Hotel Albuquerque.
Does The Querque Hotel Albuquerque feature any cleaning services?
Yes, The Querque Hotel Albuquerque offers dry cleaning service, room service and laundry.
Is there any Internet available at The Querque Hotel?
Yes, at The Querque Hotel high speed internet access is provided throughout the property.
What popular attractions near The Querque Hotel Albuquerque can I visit?
University of New Mexico is worth visiting, plus it is set approximately 10 minutes' drive away from The Querque Hotel Albuquerque.
What leisure facilities are provided at The Querque Hotel?
You can enjoy a patio, fitness facilities and a flat-screen cable-TV available in The Querque Hotel.
Where is The Querque Hotel positioned?
The Querque Hotel is situated in Downtown Albuquerque district approximately 10 minutes' drive away from University of New Mexico.
Are there any dining facilities close to Querque?
You will be able to enjoy a meal in nearby establishments, Little Anita's and Pho 79, since they are located just about 8 minutes' walk away from Querque.
How much does a room at Querque cost?
The prices at Querque start from $79.